Na wa ooo!
The above is common exclamation among people from Nigeria. Well, if the topic of this blogpost is anything to go by (trust me, it sure is), then fashion has a strong stranglehold on humanity.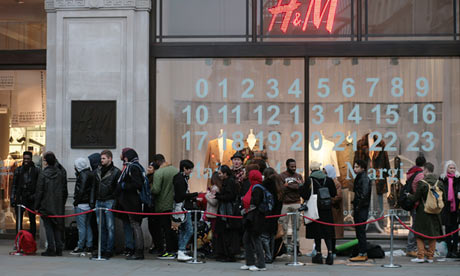 Insane? A whole lot of people queued all night for a chance to buy a Maison Martin Margiela creation. Photograph: Martin Godwin
Two long queues stretching down Regent Street on either side of the flagship H&M store on Thursday morning offer the telltale sign that their latest designer collaboration is about to go on sale. There are people standing in line who have been there since 10.30pm the night before and they are all set to buy into the avant garde world of
Maison Martin Margiela
, a label specialising in rather unconventional clothes. On sale are jackets with odd pointy shoulders, fabrics used inside out, coats and jeans cut in gargantuan oversized proportions. It is not for the uninitiated.
As a group of shoppers sweep into the Regent Street store - politely at first but soon madly running up escalators - the H&M website crashes. The first 20 customers allowed to shop from the women's collection in a specially cordoned off area, meanwhile, begin by pouncing on "sweetie wrapper" clutches in silver or metallic purple; leaving TV camera crews and photographers blinded by a £34.99 reflective handbag.